Turkish novelist, film writer, and dramatist; pseudonym of Mehmet Rasit Ogutcu. For political reasons his father, a lawyer and politician, took the family from Adana to Syria, and Ofhan Kemal had little formal education. Returning to Turkey in 1932, he worked as a laborer and factory hand. From 1938 to 1943 he was imprisoned, and it was in there that he came to know Nazim Hikmet. After 1951, he settled in Istanbul. He died during a visit to Bulgaria in 1970. See Nazim Hikmet (Ran).

Orhan Kemal is primarily a novelist and short-story writer. His life both in prison and out brought him Into contact with Turkey's underprivileged people, and It was from that milieu that he drew his rich material. All his plays are adaptations of his novels and short stories. His Cell Block No. 72 (72. Kogus, 1967) is a realistic portrayal of prison life. In it he argues that crime prevention can be brought about not by imprisoning people but only by changing the social system that breeds crime. The focus of the play is a ship captain whose goodness, sincerity, love, and tragic death teach the other inmates a lesson In brotherhood. This man is contrasted with the head jailer, who seems determined to increase the sufferings of his prisoners. The Chaffinches (Ispinozlar, 1964), adapted from his novel Sweet Bird of fortune (Devlet Kusu) depicts the lives of a poor family whose only hope lies in the possibility that the son will marry the enamored daughter of a rich, vulgar neighbor. Though he Is in love with a poor girl, he consents to this marriage in order to rescue his family from poverty. This arranged marriage results in unhappiness for all concerned. The play was revised as The Mayor of Hicksville (Yalova Kaymakami in 1968. Shoemender's Shop (Eskici Dukkanı, 1970) was adapted for the stage from the playwright's novel. The Shoemender and His Sons. A poor lame cobbler—a patriarchal father and a descendant of a feudal lord—dreams of making rich marriages for his children, but they choose spouses from their own class. In the end the old man is forced to sell his shop. Destitute, he finds some hope in his neighbors, who unite to help him.

Share and Share Alike (Kardes Payi, 1969), his last play, highlights the tragic situation of workers from rural areas who come to big towns to find work. It realistically depicts their struggle against a cruel tabor racketeer who exploits them and threatens to replace them with unemployed workers when they complain. Finally, through the efforts of a brave young woman worker and the man she loves, the workers manage to rebel.

Orhan Kemal's novel Murtaza (1968) was adapted by the author, but another stage version was done by the playwright Orhan Asena. A grim comedy, it centers around Murtaza. who works in a cotton mill and acts as a watchdog for his bosses. To avenge themselves against him, the other workers arrange for him to catch his own daughter napping on plant time. Murtaza beats her so cruelly that she dies. See ASENA, Orhan.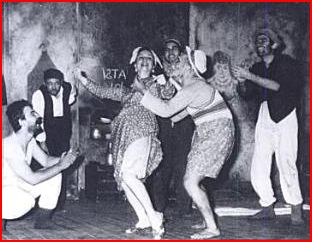 METIN AND

Share and Share Alike deals with rural people in the big city. (Metin And Collection.)