We always feel the same thing with masters of our realist literature. They present us a piece of life. We watch what happens. It hurts us. Orhan Kemal, Sabahattin Ali, Kemal Tahir and Sait Faik are among such writers in Turkish literature.
Our celebrated author Orhan Kemal was born Mehmet Rasit Ogutcu in Adana in 1914. His father, Abdulkadir Kemali Bey was a politician of the time. When Abdulkadir Kemali and his family migrated to Syria, Rasit's education was left half-finished. The family moved back to Turkey in 1932. After this point, Mehmet Rasit worked in cotton factories as a labourer, weaver and warehouse official. He found himself struggling to earn a living in his youth. In 1939, while he was doing his military service, he was convicted and sent to prison for five years.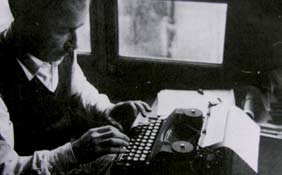 The young Mehmet Rasit was sent to Bursa Prison for part of his sentence. There, he met one of the most important cornerstones of his life, the great poet Nazim Hikmet. Rasit had been writing poetry until this time, but at the recommendation of Hikmet, he turned to prose. Nazim Hikmet who had been Kemal Tahir's tutor in Cankiri Prison, now started to tutor Mehmet Rasit and he gave him lessons, ranging from French to philosophy. Having signed his work as Rasit Kemali until then, our writer started to use the name Orhan Kemal.
'They usually see me in the streets during the day… I always go here and there… I drop by somewhere, I go on migrating from one place to another… For years every morning, summer and winter, I get out of bed at four in the morning… And write until nine... Then I go out into the streets… I drop by Ikbal and have a coffee…
In order to write, one has to live, feel, and perceive the people… It is very necessary to be able to stay in public for writing… And to perceive the changes of the people… In order not to get out-of-date… Moreover, one has to catch the change and not fall outside this change… And beyond this, my life as a writer continues daily…
One has to work everyday, write everyday and fight for bread everyday… And since I am on the people's side these days, they make me pay a very tough bill.'
In fact, just like many great writers, Orhan Kemal always talks about the same thing – his country and his people. Such writers are willing to pay the price for this, no matter how big. Let's listen to his own voice, at what he says in his novel, There Was a Bud:
'…the world is completely different now. All of a sudden, Bedri Rahmi's orange, blue, yellow, pink colours started to flutter around inside me; the Istanbul of Sait Faik's short stories, though I have written mostly about the Turkey of labourers and peasants Turkey. I guess the storywriters, novelists, poets, artists, musician friends and strangers who deal with this carousal of colours are naturally born in love.'
Orhan Kemal's protagonists are people whom we see on the streets everyday. In his writings, a faith in human beings is always expected. For Orhan Kemal, there are no bad people. He evaluates people according to their given circumstances.
His characters are not idealized people. Only Orhan Kemal narrates his characters with a love dependent on the reality of human beings. What is important for him is to narrate. He connects with his narratives through poetry, love and the light of life. Maybe most of his protagonists are real, but he has embroidered them into a novel with his unique touch.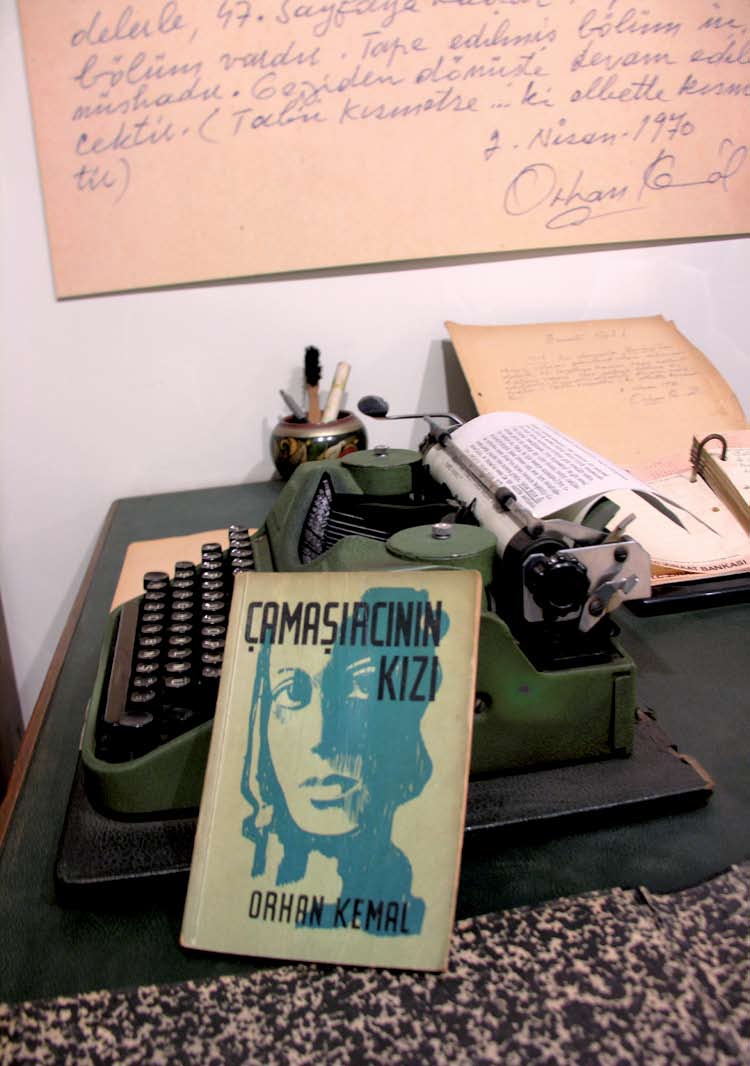 As for this great master's short stories, they should definitely be studied in a more special frame than his novels because he created a synthesis of language, a view of life, an attitude, which we can practically call Orhan Kemal's storytelling. The most important characteristic of his stories, the one which would make us say 'This is an Orhan Kemal story,' is his success in dialogue. For instance, he brings to life the dialogue between two neighbourhood women in such a way – leaning with their elbows against the window sill, eating sunflower seeds and looking out on to the street – that you feel like you are eavesdropping.
Orhan Kemal got out of prison in 1943 and moved to Istanbul in 1951. He used to work in various jobs to earn a living, but after that he chose to live only by writing. '…I have relied mostly on writing screenplays. Of course, before the screenplays, I thought about writing to earn a living, but it didn't work.
However, I never wrote hastily and carelessly to earn more money. Whatever I published with my signature, I worked on thoroughly, as well as I could…'
'…new topics, giant topics indeed, are chasing each other inside me… Oh the time! Oh the rent!
The coal, wood, the scraps for the pan! I guess, thinking about all these makes a person strong on one side. But it's enough now. I have learned life and the logic behind it more than enough.'
Orhan Kemal won the highly esteemed Sait Faik award twice with his books Equal Sharing (Kardes Payi) and Bread First (Once Ekmek).
The latter has also won The Turkish Language Institute Short Story Award. He adapted some of his novels, such as Ward-72, Murtaza, The Junk Shop, for the theatre and was chosen as the playwright of the year by Ankara Institute of Art in 1967 for his play Ward-72.
Orhan Kemal was arrested in 1966 as a result of an informant's testimony and sent to Sultanahmet Prison. He stayed there for fifteen days and then was released again. He was kept under surveillance for a long time. Having lived his life as an intellectual who faced great difficulties and never made any concessions due to his love of country and its people, the great master passed away on June 2nd, 1970 in Sofia, where he had gone as an invited guest.
When the convoy carrying his coffin entered his beloved country from the Bulgarian border, it was stopped in Babaeski by a large group of labourers who were lined up on the side of the road, their hands and faces covered in dirt. The labourers had not forgotten Orhan Kemal, the labourer of writing. One of them approached the car that carried him and raised a banner. The banner read: 'We the Workers Bow Down before Your Memory.'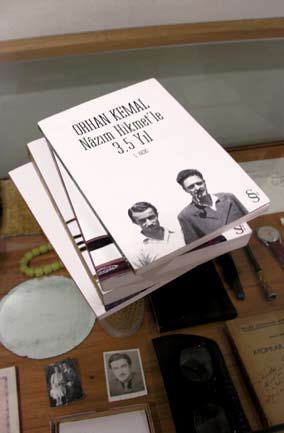 His Works
He won The Sait Faik Short Story Award in 1958 with Equal Sharing (Kardes Payi). His book, Bread First (Once Ekmek) won both The Sait Faik Short Story Award and The Turkish Language Institute Short Story Award in 1969. He adapted some of his novels, such as Ward-72 (72. Kogus), Murtaza, The Junk Shop (Eskici Dukkani), Equal Sharing and The Finches (Ispinozlar), for the theatre. He was chosen as the playwright of the year by Ankara Institute of Art in 1967 for his play Ward-72. Since 1972, an award has been given in his name.
Some of his novels which has been filmed are: The Criminal (Suclu, 1960), Windfall (Devlet Kusu, 1961 and 1980), Mustafa the Vagabond (Avare Mustafa, 1961), A Child of the Streets (Sokaklarin Cocugu, 1692), The Tricycle (Uc Tekerlekli Bisiklet, 1962), Murtaza (1965) and also under the title The Guard (Bekci, 1984), Foreign Girl (El Kizi, 1966), The Incident (Vukuat Var, 1972), A Girl of The Streets (Sokaklardan Bir Kiz, 1974), On Fertile Lands (Bereketli Topraklar Uzerinde, 1979), The Fugitive (Kacak, 1982), Ward-72 (72. Kogus, 1987), The Ragman and His Sons (Eskici ve Ogullarý, 1990), The World Inside Out (Tersine Dünya, 1993). Some Recent Editions 3.5 YEARS WITH NAZIM HIKMET (Nazim Hikmet'le 3,5 Yil) Everest, 128 pp., 2007, ISBN: 978-975-289-410-5 WARD-72 (72. Kogus) Everest, 98 pp., 2007, ISBN: 978-975-289-396-2 MURTAZA Everest, 356 pp., 2007, ISBN: 978-975-289-379-5 THE INSPECTOR OF INSPECTORS (Mufettisler Mufettisi) Everest, 305 pp., 2007, ISBN: 978-975-289-374-0 THERE WAS A BUD (Bir Filiz Vardi) Epsilon, 294 pp., 2006, ISBN: 978-975-331-927-0